Gili Trawangan
Gili Trawangan is a small, coral atoll island sat between Bali and Lombok. Gili Trawangan, or better known as Gili T, hosts some of the best beach parties in Indonesia.
Gili Trawangan is one of the 3 Gili islands. Located between Bali and Lombok, the Gili's are accessible by boat from either Bali or Lombok. This archipelago of 3 tiny islands is where you will find a wide mix of activities and entertainment from all night full-moon parties, vivid marine life, a turquoise blue ocean, white sand beaches, to several stylish boutique hotels and breathtaking sunsets. No cars or motorbikes are allowed on the islands so you can slow right down to a languid island pace. Gili Trawangan is the largest of the islands and offers the most active entertainment options of the 3 Gili's. There are about 800 year round residents on the island.
Most of the places to stay in the Gili's are located on Gili T. It also has the most complete supporting infrastructure including a wide range of dining options from simple local warungs up to open air or air-conditioned cafes and restaurants serving local and western cuisine. Barbecued fish is excellent here and most evenings the beach front restaurants offer grilled fish buffets with outdoor beachfront dining.
The west coast of the island is less developed than the east coast due to the distance from the jetty and speed boat docks. Most visitors walk to the west coast of the island for the spectacular sunsets over the ocean and behind the island of Bali before heading back to the east coast for an evening out. Sunset point is about a 15-minute walk from the Gili Sands Beach Club.
Many guests come for a day or two end up spending a couple of weeks on Gili T. You can find almost anything you could want out of a holiday, beautiful views of Mount Rinjani in Lombok or Mount Agung in Bali, crystal clear waters full of turtles, great snorkeling and diving, a laid back island welcoming atmosphere and of course, there is always a good party going on somewhere on the island!
Facts & Tips
The local currency is Indonesian Rupiah
The official language is Bahasa Indonesia which is similar to Malaysian and is used throughout Indonesia in general.
If you can use just a couple of Indonesian words, this will give you big smile in return, even if you simply use "Pagi" (morning) and "Terima Kasih" (thank you), it will be hugely appreciated.
A 30 day visa is given at the time of arrival in Indonesia (not for all countries, check with your embassy) but if you want to stay longer, you can obtain a 60 day visa in advance at consulates and embassies.
There are ATM's on the island so you don't have to bring wads of cash.
Free Wi-Fi is available in most places around the island including homestays, bars and restaurants.
Bring a small torch for the evening as there are parts of the island that do not have lights, especially if you want to watch the sunset on the west coast and walk to the east coast for dinner.
All toilets for the restaurants are "public" so carry a small packet of tissues and antibacterial handwash in your bag as they don't always have toilet paper or hand washing facilities.
Electricity on the island can sometimes be interrupted, so be aware of this as it can affect internet access and all important ATM machines.
Enjoy our spacious and private sundeck area, and dive into the tranquil waters of your large sea water swimming pool.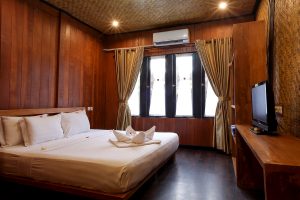 Designed with a blend of an idea of Lombok architecture, it is a combination of modern and simply traditional Lombok style.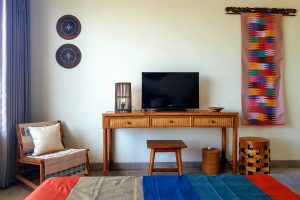 Located on the second floor, enjoy the seaview from your room or relax on your private balcony right facing to the sea.
Equipped with a terrace, our Standard Room is designed with a blend of modern day life with the unique ambiance.