Gili Sands Bar & Restaurant
Gili Sands Beach Club is an incredible location, great sound, good food and fun people. We have restaurant namely Sand Bar and Restaurant which has a breath-taking beach view invites you to an unforgettable experience during your holiday in Gili Trawangan. The Sand Bar and Restaurant is a signature of Gili Sands Beach Club, open daily. It welcomes walk-in visitors as well as guests of the neighboring resort at Gili Trawangan. we serve a variety of dining options, serving a variety of light snacks, barbeque item for lunch as well as a good selection of steak and many more. The Gili Sands Beach Club is complete with Bar and Restaurant set by the ocean view, coffee shop, The hotel club offers beanbags, bar and restaurant facilities, and features daily DJs. Gili Sands Beach Club is on the west site is very popular for its beach holiday, lay back and enjoy the magnificent view of the sunset.
Dinner
It is the perfect setting for a dinner at Gili Sands Beach Club, a place where you can be delighted by magnificent beach front views, delicious meals under the moon, and feel the warmth of the sand between your toes. For a special occasion or just to celebrate for being here with someone you loved, set on the beach or on our restaurant. Our iconic venue really does know how to show you are a good time
Beverage
Drink your hangover away on one of the nice beach in Gili Trawangan. Enjoy both to the sound of our residence DJ or live acoustics. Hard to beat right! Gili island brings the relaxing art of sun-downing to exciting new heights. It is an island's hip spot to unwind over cocktails and light bites whilst watching the island's celebrated sunset. Kick back and relax, sipping on a cocktail and sample something delicious from our menu. You can even pamper your senses with a luxurious spa treatment in our hotel, or just float around and soak up the sun to the smooth tunes from their resident dj's. From 8pm in the front of the hotel you cab ne on the an ambient and intimate mood beach venue to relax under the stars.
Enjoy our spacious and private sundeck area, and dive into the tranquil waters of your large sea water swimming pool.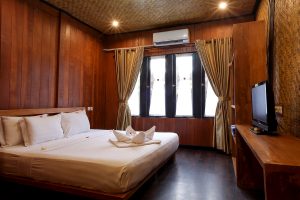 Designed with a blend of an idea of Lombok architecture, it is a combination of modern and simply traditional Lombok style.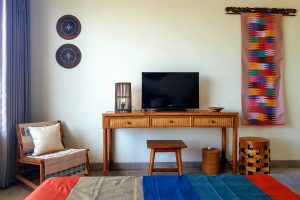 Located on the second floor, enjoy the seaview from your room or relax on your private balcony right facing to the sea.
Equipped with a terrace, our Standard Room is designed with a blend of modern day life with the unique ambiance.